周氏股份有限公司



Zhou Shi Co. Ltd
Room 202, Ding Dan Yuan,
Building 28, Li Hua Sen Cun,
Changzhou City,
P. R. China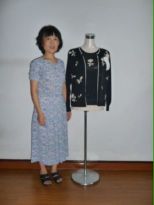 Beautiful Designs - Beautiful Clothing
美好的設計-美麗的衣物
Changzhou's highly respected fashion designer of both male and female clothing, especially sweaters and jumpers has opened her business to UK customers. She is interested in taking orders from both individuals looking for something special, such as her unique collector sweaters or traditional to modern Chinese knitted designs. She is willing to produce designs made from your individual ideas or ideas of a new entrepreneur import design company with marketing outlets in UK and Europe.
Changzhou' 男性和女性衣物、特别是毛線衣和套頭衫的s非常受尊敬的时装设计师對英國顧客打開了她的事務。她是对接受從尋找事的兩個個體的命令感兴趣特別,例如她獨特的收藏家毛線衣或傳統對現代中國被編織的設計。她是願意导致由您各自的想法做的設計或一個新的企業家進口的想法在英國和歐洲設計與市场出路的公司。
She is a highly, talented, fun person and fashion designer. She has a factory employing 30 people in Changzhou, near Shanghai, China. She welcomes visitors and her factory can handle orders of any quantity, both large and small.
她高度是,有天才,樂趣人和时装设计师。有一家工廠雇用30個人的她在常州,在上海附近,中國。她歡迎訪客,并且她的工廠可能處理任何數量命令,大和小。
She will ensure that all designs are well packed and posted promptly to UK addresses. Her fashion designs are highly respected in China, and we would recommend that you ask her for more information on her brilliant, talented designs.
她保证所有設計很好被包裝并且及時地被張貼對英國地址。她的時尚設計是非常受尊敬在中國,并且我們建议您要求她關於她的精采,有天才的設計的更多信息。
The factory can handle orders up to 100,000 items.
Individual sweaters and jumpers can also be made to order and should you contact her by email, you will receive all your replies in English from her talented, bilingual English degree educated son - Jiang Feng (George) who is very pleased to help you with selected designs, quotes, & delivery dates. I would like to speak with YOU click here ...... Contacts
"Hello I am George to our English Friends"




各自的毛線衣和套頭衫可能應該也是定做的,并且您由電子郵件,您与她联系從她有天才,雙語英國程度將接受所有您的回復用英语教育的兒子-是非常喜悅幫助與選擇的設計,行情, &的Feng (喬治); 交货日期。如果您希望与我們的買家聯絡.....人民联系
Why not contact our UK English colleague he will explain things and visit to show some fashion designs of Zhou Lin Mei. Click here......... Contacts
如果您希望与我們的英國英國聯絡联系
.....与我們联系
The quality of the products is brilliant, superb and better than sweaters bought in this country. Lin Mei honours all purchasers with a guarantee of satisfaction unequal to those of western designers and clothing manufacturers.
產品的質量比在這個國家買的毛線衣精采,雄偉和好。林Mei尊敬所有採購員與滿意保證不同等對那些西部設計師和服装厂。

Changzhou, nicknamed the Dragon City, is a city with a history of 2,500 years. Situated in the downstream of Yangtze River Drainage Basin and on the southern bank of the Yangtze River, Changzhou has been a national tourist hub and one of provincial industrial centers.
常州,起綽號龍城市,是有2,500年的歷史的一個城市。 位於在順流长江流域和在长江的南部的河岸,常州是一全國旅遊插孔和一个省工业中心。
All Fashion Designs are copyright of
Zhou Lin Mei (Fashion Designer)

Right click copying has been disabled
用鼠標右鍵單擊複製失去了能力
谢谢